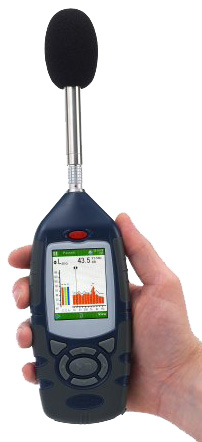 CEL-630 SLM with Vibrant Color Display


Screen Shot - 63x Series Analyzers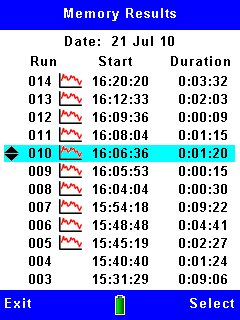 CEL-63X Memory Recall Screen Shot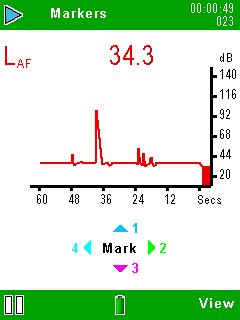 Casella CEL-632/633 Sound Level Meters
Datalogging Real-Time Analyzer for Occupational & Environmental Monitoring
Type 1/Type 2 with Octave Band Analyzers
Tthe CEL-632 and CEL-633 Type 1 and Type 2 sound level meters are used for environmental or industrial hygiene occupational monitoring. They have a single, wide measurement range from 20 to 140 dB (143.3dB peak), measure the Slow, Fast, Impulse and Peak responses simultaneously, and calculate the time-weighted average noise level with the 3, 4 and 5 dB exchange rates in every run. The maximum, minimum and time-weighted average noise levels are stored for all measurements with all the valid combinations of frequency weightings and time responses. Features audio (WAV) recording ability and user selectable 7-language interface..
The display is a high resolution color TFT display which has an indicator to guide the user through the measurement procedure. Color bars at the top and bottom of the screen indicate to the user which mode the meter is currently in for clarity and ease of use. Red means the instrument is in standby mode, green means running and collecting data, and blue shows recalled answers from the memory. A backlight function allows viewing the meter display even in very low light levels and can be activated with a fixed timer or by a simple button press.
Up to 999 separate measurements can be saved into the 2 GB memory for later download to computer via USB interface to.Casella Insight Database Management Software. Results that include audio files and dictated notes can be downloaded so that they can be integrated into a single comprehensive report use if required.
There are 2 basic models available to select from, with key features shown below::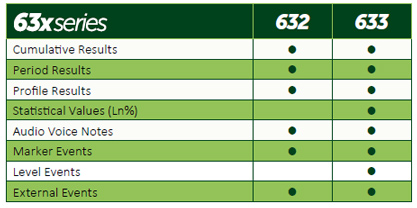 The CEL-633 has all of the features of the CEL-632 and additionally stores 5x Ln values in broadband and octave modes. For time history data, all parameters are logged for period times, plus 6 selectable profile parameters
A wide range of specific models are available to meet every need. Once you determine the basic model you need, you then select your frequency analysis requirements by adding 'A' for broadband, 'B' to add octave band and 'C' to add 1/3 octave e.g. CEL-632C. Finally, add either a 1 or a 2 to denote the accuracy class e.g. CEL-632C1. Each instrument comes complete with a standard kit case, windscreen and calibration certificate.
Run results can be stored for later retrieval by the user using the integral high speed USB interface. Measurement files can be read using the CEL-63x plugin which is available for the Casella Insight Database Management Software. Results that include audio files where they have been captured can be downloaded so that results from the sound level meter and CEL noise dosimeters can be integrated into a single comprehensive report if required.



Casella CEL-63x Series Sound Level Meter Data Sheet



Casella CEL-63x Series Sound Level Meter User Manual

Casella CEL-63x Series Sound Level Meter Quick Start Guide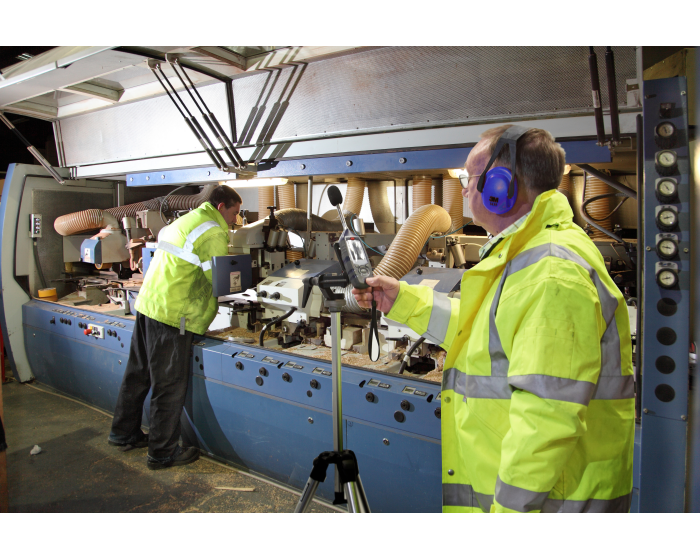 Casella CEL 630 Sound Level Meter Used to Monitor Employee Noise Exposures