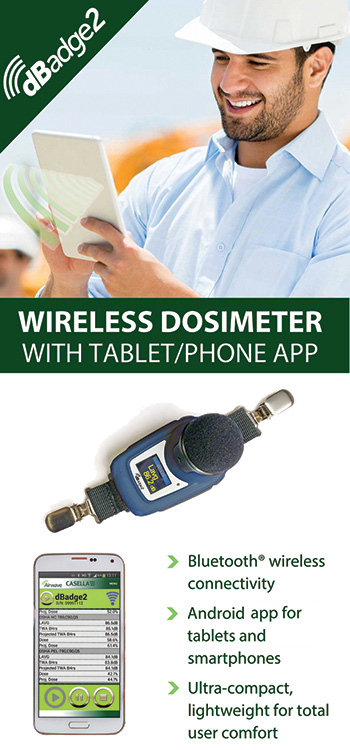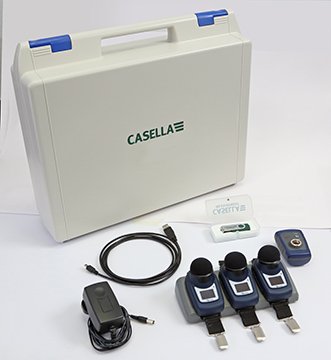 Casella K/3 Dosimeter Kit Contents
(Case type may vary)
Easily Clips to Collar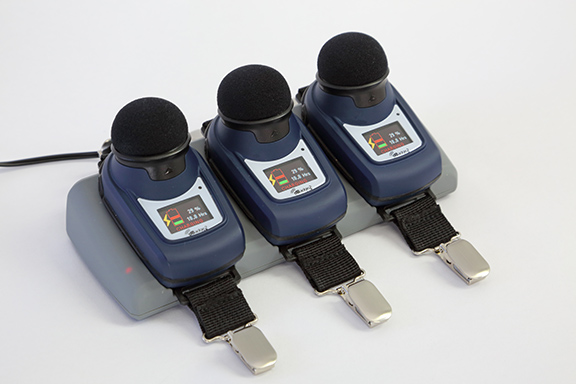 Easy User Interface -dBadge2 Pump
in 3-Position Docking Station & Charger
Casella dBadge2 IS Bluetooth Wireless Noise Dosimeters
Color Screen Display, Motion Sensor, Multiple Dosimeter Capability,
with Audio Recording, Octave Band RT Noise Analysis Options
The micro-sized dBadge2 IS™ intrinsically safe, cable-free, shoulder-mounted noise dosimeter with wireless Bluetooth technology allows you to REMOTELY control the dBadge2 dosimeters and view noise exposure data from multiple workers, right on your cellphone or tablet without having to disturb the wearer.
Email run data alongside any photos or notes to make your reporting easier. Includes a user lock to avoid any interference during a run, and highly visible status indicator. Simple dosimeter user interface using only 2 buttons.

Casella dBadge2IS DataSheet


Casella dBadge2IS User Manual



dBadge2 IS with Bluetooth® 4.0 Connectivity -
Use with Apple or Android Devices
Bluetooth® 4.0 wireless connectivity with the supporting free Airwave App allows you to remotely start, stop or pause a measurement run, monitor battery life and memory capacity, check measurement progress and alarms without having to disturb the worker who may be involved in a critical task or be otherwise inaccessible. Use your own Apple or Android device.
The dashboard display provides the run data at a glance and you can email this data alongside photos and notes direct to your PC making your reporting easier.
Noise Recording

It also provides the facility to record the actual noise associated with triggered events as defined by user-settable exceedance and parameters based on 1 second SPL or LPeak or LMAX profile data.
3-Dosimeter Data Logging
These simulated dosimeters termed D1, D2 and D3 simply define the measurement parameters that are displayed on screen or that appear on the Airwave App. The primary dosimeter, D1, provides access to any LAVG or LEQ based noise dose parameters plus a comprehensive set of related noise measurement parameters. There are pre-defined ISO, OSHA, MSHA, and ACGIH setups (selectable from the dBadge2 itself) but also a fully custom configured mode using Casella Insight data management software.
Dosimeters D2 and D3 allow you to display additional LAVG based noise dose results based upon their associated Threshold (T), Criterion (C) and Exchange rates (or Q factor). As an example, you may wish to simultaneously compare noise exposure data based upon the OSHA Personal Exposure Limit (PEL) or Hearing Conservation (HC) setups
Built-In Motion Sensor
The built in motion sensor expresses a worker's movement as a percentage of the time that motion has been detected during a measurement run. This means that you can be confident that the dBadge2 has been worn for the entire shift and therefore that the data from the measurement run is valid.
Casella dBadge2 Models & Accessories
The dBadge2 IS dosimeters are intrinsically safe an davailable as either Basic, Plus or Pro models. Non-IS models are also available.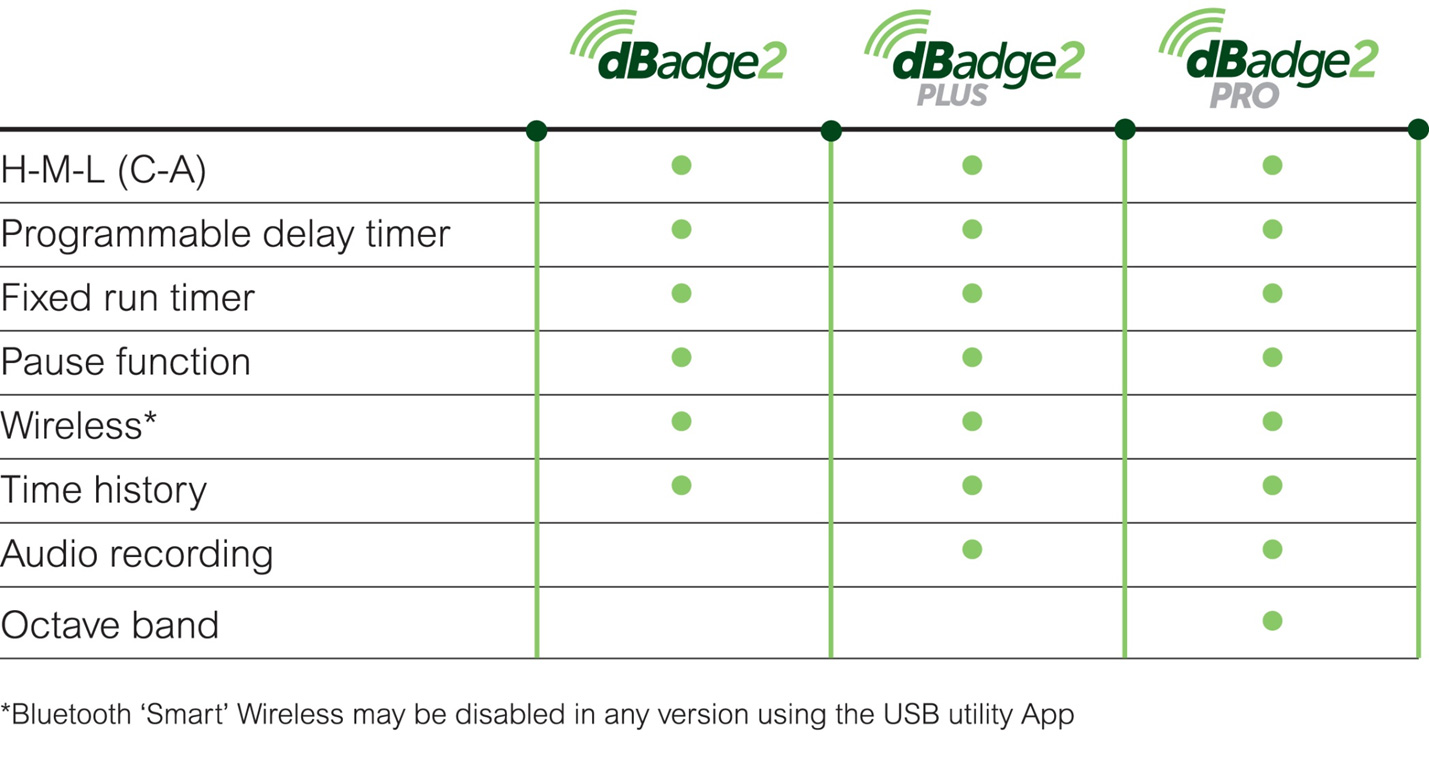 dBadge2 dosimeters are available as 'kits' which means you receive the dosimeter along with all the items necessary for daily calibration and use. Kits can be configured to have from a single dosimeter plus a docking station/battery charger and cable, acoustic calibrator, software and carrying case; and kits may contain as few as a single dosimeter all the way up to ten dosimeters plus appropriate accessories.
dBadge2 IS Models - Available in Kits - Contact us For Details

dBadge2IS
dBadge2IS Personal Noise Dosimeter
dBadge2ISPlus
dBadge2IS Plus Personal Noise Dosimeter with Audio Recording.
dBadge2ISPro
dBadge2IS Pro Personal Noise Dosimeter with Audio Recording and Real-time Octave Band frequency analysis,
dBadge2IS - Note
The Airwave App can be downloaded at no charge from the Apple App Store (for iOS) and Google Play Store (for Android). The dBadge2 Data Download Utility is not supplied, but can be download at no charge from the Casella website.
dBadge2 Accessories
207107B/P
3-way combined Docking Station and Charger only
207107B/KIT
3-unit charger/docking base with (1) CEL-PC18 universal power supply and (1) CMC51 USB cable, for dBadge2IS Series
207107B/EXT
3-unit charger/docking base with (1) C6359/0.2 link cable, for dBadge2IS Series
CEL-120/2
Class 2 Acoustic Calibrator
dB2Case/10
Carrying case, holds up to (10) dBadge2 Series dosimeters with accessories
dB2WS
Foam windscreens for dBadge2 Series dosimeters, 5-p
dB2Clips
Alligator mounting clips for dBadge2 Series dosimeters, 5-sets
CEL-PC18
Universal power supply 110/240 VAC to 12 VDC with worldwide adaptors for dosimeter charging bases
C6359/0.2
Spare lead for connecting master & extension Docking Stations
CMC51
Communications cable, USB Mini B to USB A for dBadge2 Series docking station
CEL-252
Replacement 1/2-inch general purpose microphone, free field, Class 2, for use with dBadge2 Series dosimeters