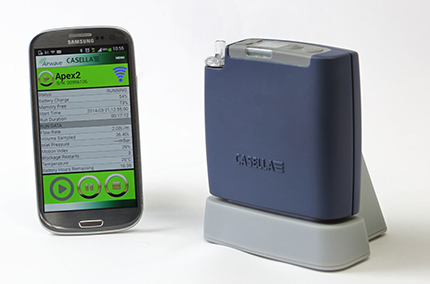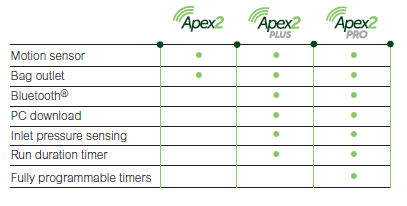 All Apex2 IS Models are Intrinsically Safe

Casella Apex2 IS
Personal Air Sampling Pump
The Apex2 IS (intrinsically safe) with a flow range from 1000-5000, and low flow range of 5-500 ml/min with adapter, are the new generation of personal sampling pumps with battery run times > 9 hours and bag sampling outlet for grab samples.
With the addition of Bluetooth® Connectivity, monitor the sampling from your mobile device without having to disturb the wearer. Email run data alongside any photos or notes to make your reporting easier. Includes a user lock to avoid any interference during a run, and highly visible status indicator.
The slim ergonomic design makes the pump less obtrusive to the wearer allowing them to carry on with their job while being monitored. A sturdy clip with a lifetime guarantee means it is secure and the detachable rubber boot guards against knocks. Ingress resistant to IP65 means that you can use it in the harshest environments and its smooth finish means it is easy to decontaminate. Three models to choose from: Apex2 IS, Apex2 IS Plus and Apex2 IS Pro covering a range of basic models to fully programmable pumps.

Casella Apex2IS Data Sheet


Apex2IS User Manual


Apex2IS Quick Start Field Guide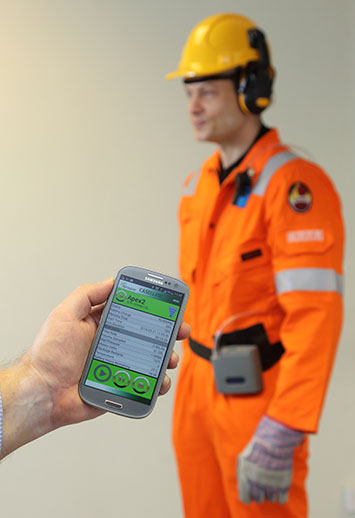 Apex2 IS Pump with Bluetooth® Connectivity
Bluetooth® 4.0 Connectivity
Use with Apple or Android Devices
Monitor your Apex2 IS pump remotely with Bluetooth 4.0* and the supporting Airwave Apple or Android™ App on your phone or tablet. There is no need to disturb the wearer from what they are doing when you can view the status of the pump, or even start, stop and pause it direct from your mobile device. The dashboard display provides the run data at a glance and you can email this data alongside photos and notes direct to your PC making your reporting easier.

* NOTE: Available on the Plus & Pro models only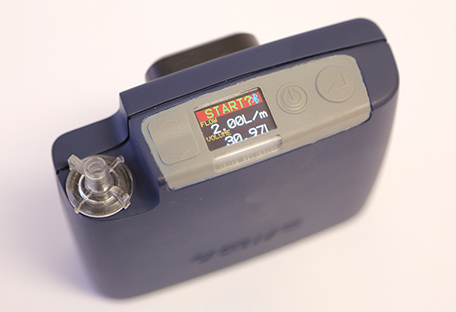 Easy User Interface
Easy 4-Button Interface
Apex2 IS simple user interface using only 4 buttons. Easily navigate through the color coded start and set-up menus - just requiring one key press to start or continue a run. Data from the current run/last run is continually displayed clearly allowing you to, at a glance, refer or make notes on your sample.
Casella Apex2 IS Specifications
Flow Performance
Flow Range ml/min
1000-5000
Low Flow Range ml/min
5-500, requires an adapter
Flow Control
< ± 5% at calibrated point
Pulsation
<10% @ 2L/min
Fault Detector
Auto Restart
Operating
Display:
Color OLED
Controls
4 buttons
Status Indicators:
Red/Green LED
Dimensions:
112x37x102mm
Weight
480g
Environmental
Temperature
Operation, 0 - 45@°C
Storage, -10 - 50@°C
Humidity
30-95% RH (non-condensing)
Barometric Pressure
Auto-correcting
Electrical
Battery Type
Li-ion with level indicator
Battery Level Indicator
Yes
Battery Life
>9hours
Chargers
Single or 5-way
Charge time
Typically <6hrs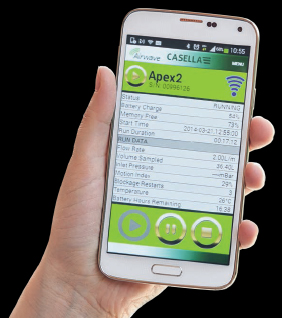 Bluetooth® 4.0 Connectivity Interface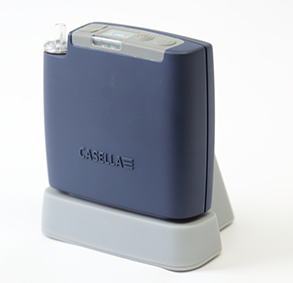 Apex2 IS Pump in Cradle Charger
Approvals

All models of the Apex2 are Intrinsically Safe. The Apex2 has been designed specifically to be used in potentially explosive areas in the oil and gas, petrochemical and pharmaceutical industries as well as being suitable for use in the mining industry
Ex ia I Ma
Ex ia IIC T4 Ga
Ex ia IIIC T1350C Da
(Ta = -200C to +450C)

Datalogging & Display
Storage
200 separate runs
Data
Start time, date, duration, volume, motion index
Interface Display
Status, battery charge, memory free, start time, run duration, flow rate, volume sampled, inlet pressure, motion index, blockage restarts, temperature, battery remaining.
Apex2 IS Models and Accessories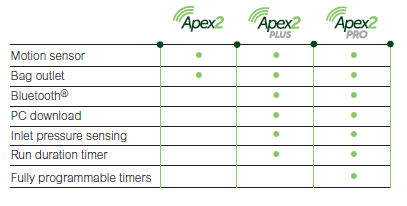 Apex2 IS Models

Apex2IS
Apex2 IS Standard Pump
Apex2ISPlus
Apex2 IS Plus Pump
Apex2ISPro
Apex2 IS Pro Pump
Apex2 IS Kits (1, 2, 3, 5 & 10 pack & custom kits available) Kits Include pump(s) with rubber boot, 3-ft tubing per pump, (1) male leur adapter per pump, Calibration Certificate (s); docking station(s), carry case
APEX2IS/K5
5-Pack Apex2 IS Standard Kit
APEX2ISPLUS/K5
5-Pack Apex2 IS Plus Kit
APEX2ISPRO/K5
5-Pack Apex2 ISPro Kit
Apex2 Accessories
APEX2 Upgrades
Call for information to upgrade Apex2IS or Apex2IS Plus to Apex2IS Pro functionality
209025C
Replacement protective rubber boot for Apex2IS Series pumps
CMC51
Cable USB, A to Mini B
209152B/KIT
1-Unit Apex2IS Series docking/charging base, with PC28 power supply and CMC51 USB cabl
209156C/KIT
5-Unit Apex2IS Series docking / charging base, with PC28 power supply and CMC51 USB cable
209121D
5-unit kit case for Apex2IS series pumps
209023B
Replacement belt clip for Apex2IS Series pumps
209126A
Inlet nozzles for Apex2IS Series, 5-pack
209127A
Inlet filters for Apex2IS Series, 10-pack